Thanks for your interest in Benefect. As the leading manufacturer of authentically botanical cleaners and disinfectants, interesting events are happening constantly. Please see the press releases and news stories below to learn more about Benefect and the successes/stories from throughout the years. As well, we will share any publications that we have promoted stories through. For more information about our community contributions, please visit our Benefect Community Fund website.
Quantum Chemical Residue Remover is the newest product developed by Benefect Corp. to save time and eliminate risk when cleaning up organic chemical residues.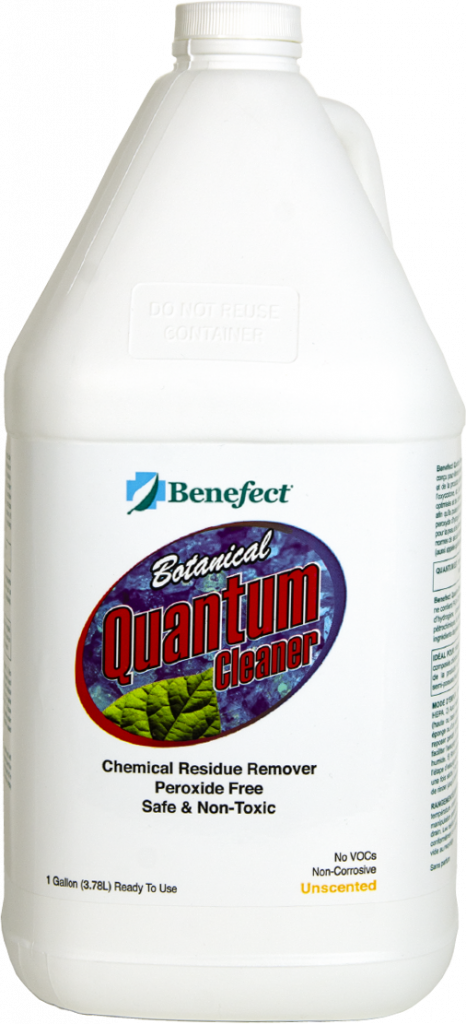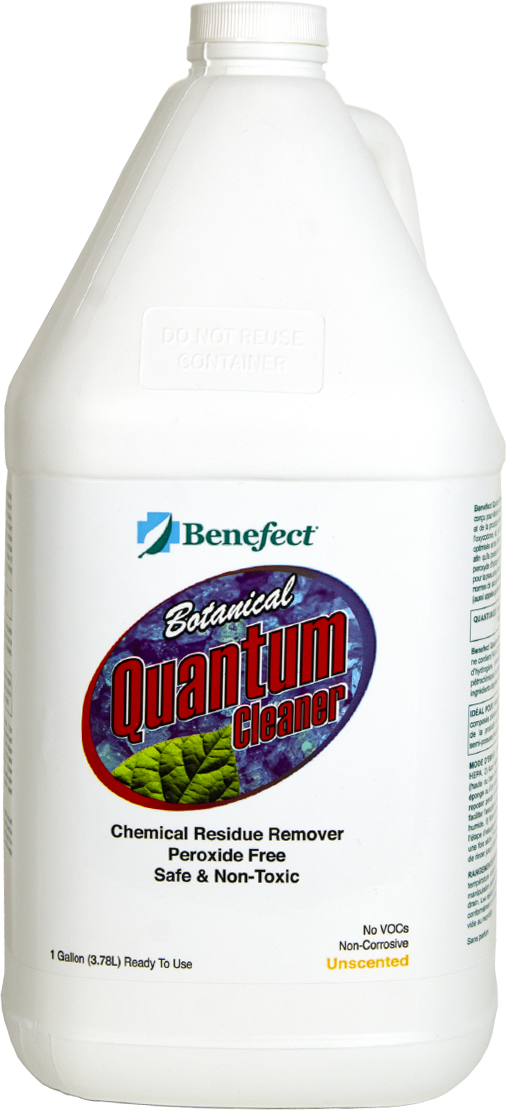 Hamilton, Ontario, CA – Benefect Corp. (www.Benefect.com) has introduced a new product to our customers, Quantum Chemical Residue Remover. Benefect Quantum Residue Remover is a high-performance, bio-based & peroxide-free cleaner specifically formulated for removal of microscopic chemical residues, particularly from clandestine or illicit drug use & production (such as methamphetamine, fentanyl, heroin, oxycodone, etc.).
Quantum is also effective for allergens as well as tear gas and pepper spray removal. The formula has been lab tested and Quantum has also been tested within the field to prove its effectiveness. Quantum surpasses the most stringent standards for safety & cleaning efficiency by rapidly reducing residues down to the smallest levels possible (called quantum amounts), in only 10 minutes!
Current international standards for methamphetamine decontamination promote safe cleaning & removal, not neutralization, encapsulation or oxidization. Traditional oxidizers (such as hydrogen peroxide) can create unknown by-products & VOCs which can also be hazardous. Quantum uses optimized dynamic surfactants & counter ions to disperse & suspend organic chemical contaminants for simple and complete removal. In field studies, it has been commented that "Quantum will dramatically reduce the labour time on a job such as meth clean-up."
Quantum is a ready-to-use product that is being rolled out with some of our distributors and suppliers over the summer of 2018. To purchase Quantum, please check-in with your current distributor to acquire pricing and product.
-30-
About Benefect Corp.
Benefect Corp. (www.Benefect.com) is a world recognized leader in next-generation botanical antimicrobial technology. Their Active Ingredient is highly specialized Thyme Oil that has been grown & blended to exacting specifications. Their full line of disinfectants and cleaning products are formulated for the Professional Restoration Contractor.
February 1, 2017 – Ontario, CA – The latest advancement from the creators of Benefect is Botanical Disinfectant Wipes! They are government registered to kill over 99.99%*. They are also effective against other common disease causing organisms such as Staph, Salmonella, Pseudomonas, E-coli and Influenza (flu virus).
The convenient single-use wipe will prevent cross-contamination on any surface where germ control could be an issue.
Using the same proprietary thyme oil Active Ingredient that Benefect is known for, the new wipe format is extremely durable and made from strong wood-pulp based fibers to create a Restoration Grade product that is able to tackle rough surfaces like wood and concrete with no shredding, pilling or lint left behind.
Adding the Benefect Decon 30 platform to a dense woven wipe gives it a distinct foaming advantage that ensures longer contact time to kill germs and improved visibility of surface coverage over conventional wipes. Surfaces are left clean and decontaminated with no streaky residue. Just wipe and walk away!
The new wipes are ideal for decontamination, preventing cross-contamination, cleaning, disinfecting and deodorizing surfaces such as water damage equipment, PPE, or building contents. It controls germs by disinfecting high touch areas in residential or commercial cleaning.
Sign Up For Our Newsletter
Each time a new issue of our newsletter is published, it will arrive in your inbox. We intentionally don't send out a lot of email, however, when there is something you need to know, it's a great way to stay current on our products and how they can benefit you.