Benefect Multi-Purpose Cleaner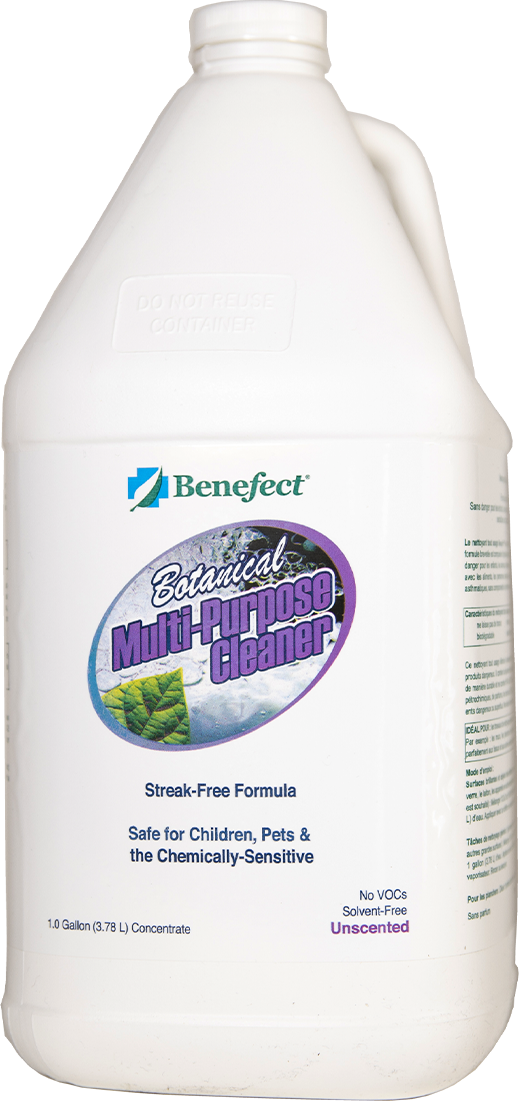 Are you going green? ...Go Botanical! 
For a complete green cleaning system use Benefect's line of Botanical Disinfection & Cleaning Products.
Formulated for:
General Daily Cleaning
Large dilution range from heavy to light-duty tasks
Botanical Ingredients
Neutral pH, No Skin Irritation & Broad Surface Compatibility
Solvent-Free, No VOCs*
No Resoiling
No Fragrances, Dyes, Petrochemicals, Phosphates, EDTA, NTA or other hazardous or unecessary ingredients.
Benefect Multi-Purpose Cleaner is a revolutionary cleaner concentrate that achieves the professional results you need without hazardous synthetic chemicals. For use on all general cleaning tasks. Made from botanical, biodegradable ingredients, it is safe for children, pets and the chemically-sensitive. It contains no chemical masking agents, fragrances, petrochemicals or phosphates. It has been proven as effective as leading national brands in standardized lab tests and the dilution rate makes it an economically viable alternative.
Environmentally Responsible
Made from 100% renewable resources, it biodegrades aerobically & anaerobically. It has no EDTA, NTA, petrochemicals, preservatives, optical brighteners or phosphates.
Better Air Quality
Some cleaners have up to 10% VOCs that evaporates while drying and pollutes the indoor air. Multi-Purpose Cleaner contains no VOCs* and does not pose any health risks to building occupants.
Ideal for cleaning floors, walls, counter tops, windows, mirrors, metal surfaces, household contents and glass. Also great for moderate soils on textiles and other delicate surfaces.
Tammy Strong, DRS – Disaster Restoration Services
We had a client whose husband has cancer and she requested us using Benefect from the options we provided her. She was very pleased with Benefect as it didn't leave streaks on the counters and no odor compared to others she had used. She was very pleased, and which makes us look good. So, thank you for making us shine.
Tammy Strong
DRS - Disaster Restoration Services
*In accordance with California Air Resources Board (CARB) Method 310 Regulations.
Search our database for a partner near you
Benefect products are designed for Professional use. Click here to find one of our authorized distributors near you.