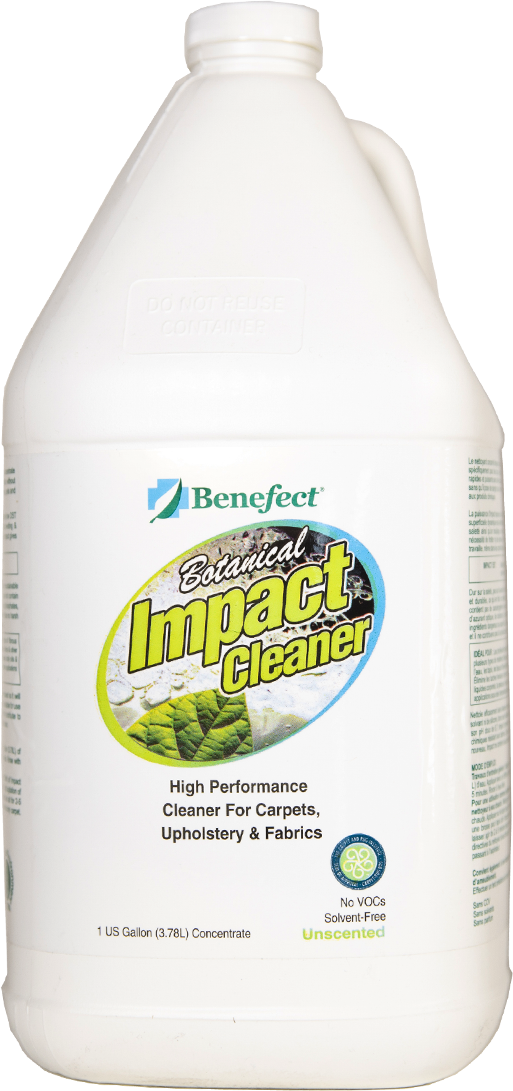 Now you can complete your line of Botanical Disinfection & Cleaning Products with our Benefect Cleaner Concentrates!
Benefect's Impact Cleaner is a high-performance Carpet Cleaner Concentrate based on optimized dynamic chemistry that outperforms other industry cleaners without using hazardous synthetic chemicals.
Formulated for:
Carpets & Fabrics
Plus other porous & semi-porous materials & surfaces
It can be used as a Carpet Pre-Spray, In-Tank Extraction Units, Bonnet Cleaning & for Upholstery Cleaning.
Botanical Ingredients
CRI Seal of Approval!
Phosphate-Free
No VOCs*
No Fragrances, Dyes, Phosphates, EDTA, NTA, alkyl/nonyl phenolethoxylates or other hazardous or unnecessary ingredients.
Made from botanically-based ingredients, it is readily biodegradable & safe to use around children, pets & the chemically- sensitive.
The Carpet & Rug Institute sets test methods & performance criteria for carpet cleaning products. Their Seal of Approval means that Impact has passed stringent test for:
Efficacy: the ability to remove stains
Resoiling: whether the product attracts soil at an accelerated rate
pH: excessively acid or alkaline products can affect dyes and fibers
Optical Brighteners: can adversely affect color, appearance and performance
Colorfastness to light: residues on pile yarn can accelerate color change
We call it Impact because you will not believe the impact it has on your carpets & to your customers:
High Visually-Clean Impact
Low Environmental Impact
You will not be disappointed when you try it!
Jason Brown, President, Rainbow International, North Jersey
I could not believe that they removed almost all the stains, traffic lane wear, ground in dirt where the office chairs roll and even coffee stains. When I asked them if they did anything special, they replied nothing other than vacuuming, applying Impact Cleaner, carpet rake, let it dwell for ten minutes and then hot water extraction, one pass only.  If I did not see results like this in front of my eyes, I would never believe it.
Jason Brown
Rainbow International, North Jersey
*In accordance with California Air Resources Board (CARB) Method 310 Regulations.
Search our database for a partner near you
Benefect products are designed for Professional use. Click here to find one of our authorized distributors near you.