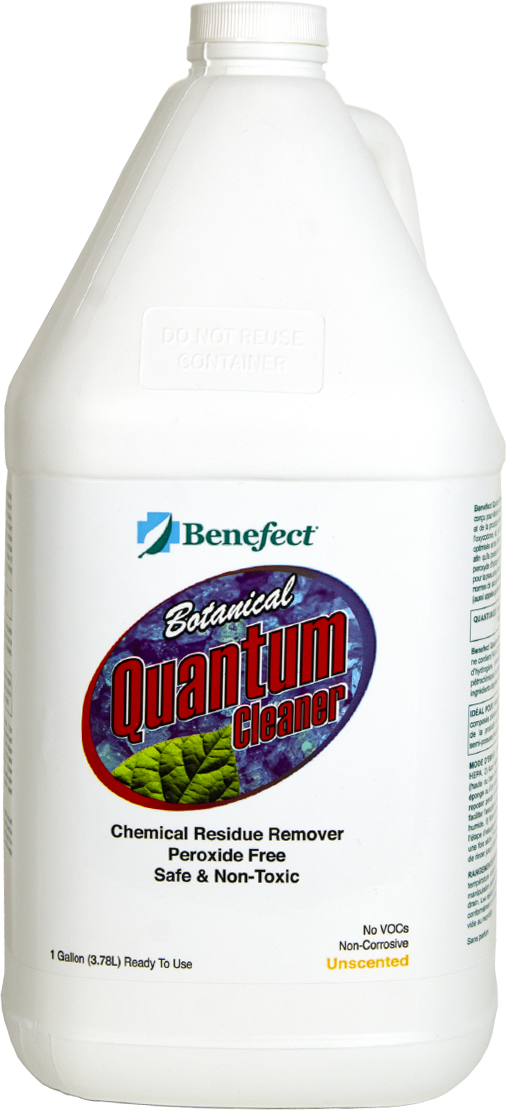 Benefect's Quantum Chemical Residue Remover is a is a high-performance bio-based & peroxide-free cleaner specifically formulated for removal of microscopic chemical residues, particularly from clandestine or illicit drug use & production (such as methamphetamine, fentanyl, heroin, oxycodone etc.). Also effective for allergens. Lab tested & field proven.
Contains only botanically-sourced or sustainable ingredients & does NOT contain any VOCs (Volatile Organic Compounds)*, oxidizers such as hydrogen peroxide, ammonia nor any bleach, chlorine, petrochemicals, phosphates, solvents, dyes, fragrances or other hazardous or unnecessary ingredients. This no mixing required, ready to use product is ideal for:
Cleaning and removal of microscopic chemical residues
Items, fixtures and contents
Crime and Trauma Scenes
Clandestine Drug Site Clean-Up
Plus, Other Porous & Non-porous Materials & Surfaces
All-Natural Ingredients
Peroxide Free!
No VOCs*
Safe and Non-Toxic
Made from all-natural ingredients, it is readily biodegradable & safe to use around children, pets & the chemically-sensitive.
Benefect's Quantum Chemical Residue Remover outperforms the traditional methamphetamine decontamination process by rapidly reducing residues down to the smallest levels possible (called quantum amounts), in only 10 minutes!
Sean Johnson, Restore, Decontamination Experts
We recently did a meth job where one room was lined with unsealed MDF and varnish wood shelving and so the recommendation was to strip out the room, I used this as an opportunity to trial the product. The timber was sampled after 1 day of drying and the results were impressive considering the quickness of the process.  The labour saving would be a big factor because of the 4 hours required for the HP based solutions to be effective.
Sean Johnson
Restore, Decontamination Experts
*In accordance with California Air Resources Board (CARB) Method 310 Regulations.
Search our database for a partner near you
Benefect products are designed for Professional use. Click here to find one of our authorized distributors near you.