Thanks for your interest in Benefect. As the leading manufacturer of authentically botanical cleaners and disinfectants, interesting events are happening constantly. Please see the press releases and news stories below to learn more about Benefect and the successes/stories from throughout the years. As well, we will share any publications that we have promoted stories through. For more information about our community contributions, please visit our Benefect Community Fund website.
Benefect Decon 30 Disinfectant and Botanical Disinfectant Wipes provide 99.99% effectiveness against bacteria using authentically botanical technologies
ANDOVER, Mass. – June 17, 2021 –
Innovative Chemical Products (ICP), maker of the Benefect® line of botanical disinfectant technologies for restoration and remediation, announced that it has achieved U.S. Department of Agriculture's BioPreferred® status for its Decon 30 Disinfectant and Botanical Disinfectant Wipes. As part of the certification process, these Benefect products were submitted for USDA testing that revealed both could be certified as 100% Biobased – the first and only disinfectant technologies to achieve this distinction. The USDA BioPreferred program provides information to consumers about the biobased content of a product. Some products labeled "botanical" might contain as little as 25% biobased content, which is measured by how much new organic carbon from plants is used compared to old organic carbon found in coal and petroleum.
Click here to read the full media release.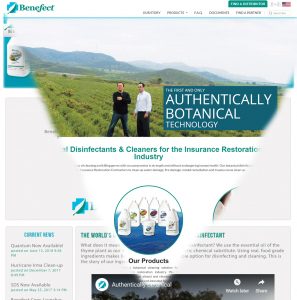 Mobile-friendly website allows for greater access to information and resources
Site enhances user experience for contractors and homeowners searching for products under ICP Group's newly formed Environmental Restoration Group
ANDOVER, MA – July 23, 2019 – Benefect®, a part of ICP Building Solutions Group (BSG), manufacturers of authentically botanical disinfectants and cleaners for the restoration and remediation industry, today announced the launch of their new and improved Benefect® website designed to help restoration contractors and homeowners find what they need with ease.
Sign Up For Our Newsletter
Each time a new issue of our newsletter is published, it will arrive in your inbox. We intentionally don't send out a lot of email, however, when there is something you need to know, it's a great way to stay current on our products and how they can benefit you.